21ST CENTURY NAVIGATION WITH ECDIS
Written on 20 December 2016
The modern, 21st century chart, known now as the ENC (Electronic Navigation Chart) is constantly visualized and updated during both, long sea voyages and port manoeuvres on the 19-inch monitor of the ship's main computer. Oil tankers, container ships, naval vessels, passenger cruisers or luxurious super yachts – all by IMO's (International Maritime Organisation) law mandating are equipped with a dual electronic display system (ECDIS) if is to navigate of ENCs only. At a situation where navigation is performed manually by paper charts, the requirement of the dual ECDIS on board is removed. The reversion to paper charts for passage planning could happen when loss of GPS feed occurs or general ECDIS malfunction is identified.
The interactive screen of an ECDIS (Electronic Display and Information System) as regulated in 2014 by IMO leads the vast vessels to ports and through passage just with a touch of the screen. There are two uses of ECDIS – for passage planning and operational navigation.
Electronic Display and Information System as seen on a bridge of a ship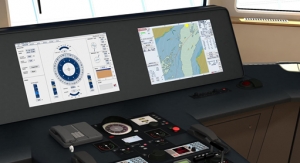 It is possible to prepare the passage plans by importing data ahead of the journey by setting the course, start and end ports data, parameters of the ship (draft, beam, length, etc.). With the Electronic Chart as a backdrop, ECDIS offers different "pallets" of colours which may be used in different ambient lighting conditions such as day, dusk and night. Additional ECDIS functionality is the integrated operation with the on-board Radar, course data from Gyro, Satellite and Magnet Compass Systems as well as data from echo sounders, wind sensors, designed to support safe navigation and collision avoidance under all maritime conditions.
Typical View of ENCs on the ECDIS Screen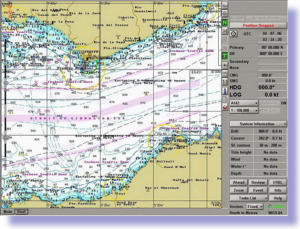 As displayed, the digital vector charts are produced to comply with the International Hydrographic organisation S57 standard and ENC product specification. The ENCs are referenced to WGS84 datum and are normally supplied with an official update service (Admiralty Vector Chart Service), which is available for download or by CD.