CAPTAIN GEORGE H. RICHARDS – THE SIXTH HYDROGRAPHER
Written on 24 May 2017
1864 – 1874
At the death of Rear Admiral Washington, the Hydrographer in 1863, the names of Captains Spratt and Richards were before the Board of Admiralty for the position of Hydrographer, the latter officer being the one selected. Due to bad health and having suffered very much from illness at Macao Captain Richards had been back in England for few years in a capacity of Secretary to the Hydrographer.
One immediate improvement Richards brought about was the provision of an ample supply of charts (bound in the form of atlases) to the officers of H.M. ships, in addition to those, provided specifically for the navigation of the ship. The latter, up to that moment, were considered the exclusive property of the navigating officer and the Captain, and were rarely seen by the rest of the officers, whose knowledge of charts was undefined and vague.
Under Captain Richards the examination of navigating officers in pilotage was transferred from the Trinity House to the Hydrographic Department.
The compilation and publication of a series of pilot charts for different oceans originated with Captain Richards and was pushed vigorously forward and completed during his hydrographership. These charts were marked with the prevailing winds and currents and other physical phenomena for each three months of the year, and bound together as Wind and Current Atlases.
Before the new trans-oceanic telegraph cables could be successfully laid, it was necessary not simply to know the depth of the water along the routes, but the nature of the seabed and the currents likely to disturb the laying process. The obtaining of information sparkled a more general interest by the scientific world in all aspects of the ocean, both their beds and the superincumbent waters.
Hydrographer Richards commissioned several oceanographic cruises and the survey ships Lightning, Porcupine and Shearwater by the summer of 1868 were traversing the waters between the Hebrides, Shetlands, Faroe Islands and the Strait of Gibraltar.
These surveys and complex water observations led to the proposal by the Royal Society, of which Richards was a Fellow, to employ an expedition to circumnavigate the globe and collect oceanographic phenomena data. The Admiralty and Richards were instructed to provide and equip a vessel and appoint the officers to work with the scientists, nominated by the Royal Society.
Challenger, a steam screw corvette was chosen and the selected commanding officer was Captain George Nares. Lead scientist on board was W. Thomson and Challenger set off from Portsmouth in December 1872. After nearly four years of sailing, collection of data and specimens Challenger returned with vast amount of information, which took over twenty years to process and publish. The Challenger reports laid the foundations of the oceanographic science.
Richards became a Rear- Admiral in 1870, in 1877 he received the honour of knighthood and in the same year he was already on the Vice-Admirals retired list.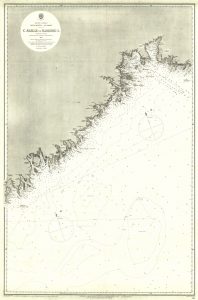 Chart No 730 – British N. America Nova Scotia – S. E. Coast, Published 1867 under the Superintendence of Capt G. H. Richards