LIST OF LIGHTS AND FOG SIGNALS – ADMIRALTY PUBLICATION
Written on 21 September 2017
The Lists of Lights publications of every maritime nation are issued by the nation's Hydrographic Organisation and are updated up to the latest version of the Monthly Notices to Mariners.
Typically, the UK Admiralty Lists of Lights and Fog Signals include a coverage of over 85,000 light structures: lighthouses, lit float marks, fog signals and other lights of navigational significance.
In total, 14 world regions volumes (A-P) are published by the Admiralty, including the home waters volume, labelled A, where each light house is uniquely numbered and depicted. By a naming convention, the Admiralty List of Lights Coverage Diagram presents the world divided in regions of lights, beacons and other lit navigational marks, seen below.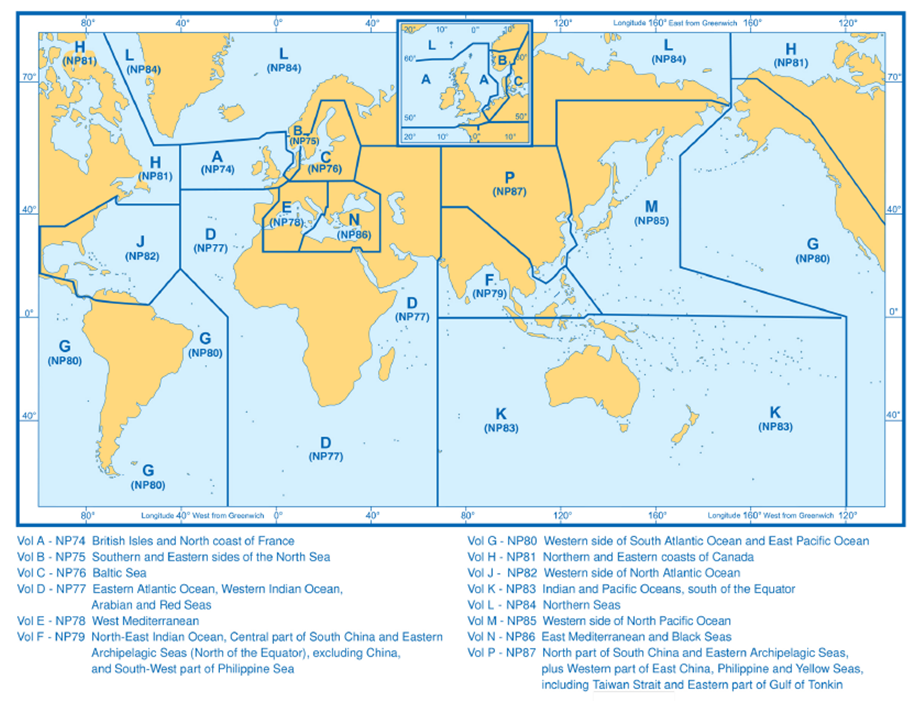 Admiralty List of Lights Coverage Diagram
Each volume offers the descriptions of the lights and fog signals, combined with the phonetic description of the foreign language light, to aid light object identification by bridge crews.
These volumes contain tables, which assist in the calculation of the geographical and luminous ranges of lights.
Details of all lights including the international number, location, and/or name, geographical position, characteristics and intensity, elevation in meters, range at sea miles and description of structure.
For instance, 39th week Admiralty Notices to Mariners list the following UK waters lights: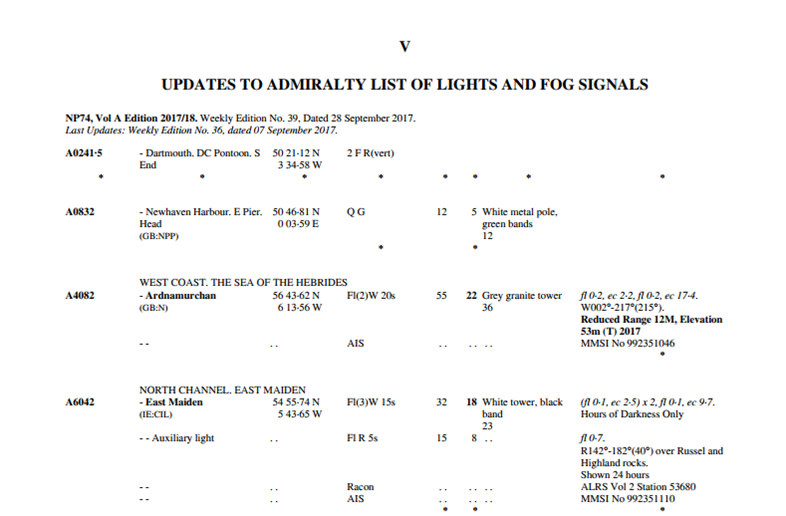 Light No A6082, Ardnamurchan, which is characterised by:
group flashing of 2 and displays; a White colour light with a period of flashing 20 sec; Focal height 55 m; Luminous Range 22 Miles; Height of the tower 36 metres; Description of the light structure: Grey granite tower; Light visiblility from sea between Sector limit 1 – 002° and Sector limit 2 – 217°.
In this case, the temporary notice to mariners (T) warns the vessel crew that the Nominal Range of light is reduced to 12 Miles and the light Elevation above height datum is reduced to 53 m.
The temporary light changes originate from the Northern Lighthouse Board Notice to Mariners (10/2017) where a temporary maintenance results in generating the particular Temporary Notice to Mariners. The Corporation of Trinity House (England, Wales, Channel Islands and Gibraltar), the Commissioners of the Northern Lighthouses (Scotland and the Isle of Man) and the Commissioners of the Irish Lights are the General Lighthouse Authorities (GLAs) for the British Isles and have responsibilities to share with the country maritime organisations under SoLAS (Safety of Law at Sea) principles information related to the management and superintendence of all lighthouses, buoys and beacons.